When you think of May 14th, fantasy football probably isn't the first thing that comes to mind. I'm not actually sure what does come to mind; I just know it doesn't involve football, nor does it involve a strategic game based on football.
According to Wikipedia, some pretty interesting stuff has happened on May 14th over the years, including the settlement of Jamestown (1607), the assassination of Henry IV (1610), The Battle of Jackson (1863) and the bombing of Rotterdam (1940). It's a cool day for history, and usually a great day for baseball/basketball/hockey — but not so much for pigskin.
Being who I am, I couldn't let any of this stop me when I had the chance to participate in both a mock draft and a mock auction Thursday evening. The first event, taking place at 4 p.m. ET, was a 14-team PPR draft that will be published in the annual RotoWire fantasy football magazine (a highly recommended purchase...though I'll admit I'm just a little bit biased). My second exercise of the night was a 22-round auction for fantasyindex.com, with PPR, best-ball scoring.
I can't publish full results from the draft or the auction, but what I can do is show you my picks and share some of what I learned. Anyone who follows me on twitter (Shameless Plug Pt. II - @JerryDonabedian) probably won't be too surprised that Falcons kicker Younghoe Koo and the Bucs D/ST are the only two "players" on both of my teams from Thursday night.
For what it's worth, I did make a valiant effort to procure Sterling Shepard — a.k.a. BAE — for both squads, but I didn't have the funds to win him by the time he was nominated (by me, of course) in the auction.
The Draft
14 Teams x 13 Rounds = 182 total picks.
Scoring: PPR, 20/10 yardage, 4/6 TDs
Lineup: 1 QB, 2 RB, 3 WR, 1 TE, 1 FLEX, 1 K, 1 D/ST, - (3 bench spots)
My squad:
This was my best-case scenario, knowing C-Mac, Barkley and Zeke would be gone. I might consider Dalvin Cook with the fourth pick in a standard format, but I have Kamara in that spot for both PPR and half-PPR. It seems like AK makes it to No. 5 at least half the time, with both Cook and Michael Thomas representing viable alternatives at No. 4.
Thomas is a boss, no doubt — I just don't like taking him over a top-five RB, given that the gap between WR depth and RB depth appears a bit larger than usual (in favor of the WRs). The No. 6 spot — which is where Chris Liss drafted him — is exactly where I think Thomas belongs. That six slot looks better than usual, especially for PPR drafts, locking in one of Kamara/Cook/Thomas without having to put any thought into the decision!
Again, I got what I wanted, using the 24th pick on a guy I rank top 20. Part of that generous ranking is enthusiasm for Kittle, while the other part is mild skepticism on the RB1 prospects of Aaron Jones, Miles Sanders, Austin Ekeler and Clyde Edwards-Helaire. Of course, it's entirely possible for each of those four running backs (and also Kittle) to be gone before the 24th pick.
In this case, I thought I got lucky when Chris Carson went at No. 21 and Odell Beckham came off the board at No. 23. With Beckham, we can at least say he wouldn't have been available in the middle of the third round in a 14-team, PPR draft — so it makes sense to take him if he's your highest-ranked guy. With Carson, a selection in the middle of the second round involved the opportunity cost of potentially getting the same player 15 picks later.
While we're here, I want to mention that Kittle missed two games last season and had three TDs called back on penalties. His 75.2 receiving yards were 12th most in the league, and second to only Travis Kelce (76.8) among tight ends. Kittle has a 1,200-yard, 9-TD season in his not so distant future, and in non-fantasy terms he might be the second-best player in the league if we're talking about dominance relative to positional peers (Aaron Donald is still the king).
I usually notice a drop off at some point in the second round, after which it's hard to distinguish between a large group of good-but-not-quite-elite fantasy assets. My aforementioned confidence in WR depth swung me toward Singletary over D.J. Moore, with the former getting the final spot in the fourth tier of my recent RB rankings. For what it's worth, I would've taken Moore if I'd known James Conner would still be available when I picked again at No. 52.
There's always some WR value in this portion of drafts — be it Woods, Diggs, Tyler Lockett, Terry McLaurin, DJ Chark, etc. In fact, I don't see a huge difference between the WRs going in the 50s/60s and those that typically are drafted in the 30s (Cooper Kupp, Amari Cooper, Allen Robinson). All are talented players, with some degree of concern about QB play or target volume. Woods I like for his role; Diggs I like for his talent.
My decision between Edelman and Watson in the sixth round came down to which player I thought was less likely to make it to my next pick. Based on ADP from best ball drafts, I should've taken Watson. But I know that QBs tend to go late in expert/industry drafts like this one — and my educated guess ended up being rewarded.
Watson will be just fine without DeAndre Hopkins in fantasy terms, partially because the 24-year-old led the league with 60 scrambles in 2018 and then finished second with 48 in 2019 (per PFF). Then we have Edelman, who seems to have been left for dead when Tom Brady left for Tampa Bay. The soon-to-be 34-year-old finished seventh in PPR scoring among WRs last year, leaving plenty of room for 2020 decline while still paying off his 80th-overall draft cost. I'd be perfectly happy with 13 ppg instead of 16, and I'll also note that Edelman was averaging 18.2 points before a knee injury robbed him of both snaps and effectiveness Weeks 15-17.
Deshaun Watson points to where he should've been drafted... earlier than the seventh round.
Cohen was overvalued last summer on the basis of excellent 2018 efficiency (10.2 YPR, 8.0 YPT) that wasn't likely to be repeated, and now he's become undervalued due to terrible 2019 efficiency (5.8 YPR, 4.4 YPT) that also isn't likely to hold up. Cohen averaged 5.7 targets per game in 2018 and 6.5 in 2019; Shepard has never averaged less than 6.6 per game in four pro seasons.
I was all too happy to land FLEX starters while other drafters were busy indulging in the rookie-wideout crapshoot. And I'm not talking about CeeDee Lamb or Jerry Jeudy — those premium guys were gone before Round 8. I'm talking about Justin Jefferson, Jalen Reagor and Michael Pittman. Give me Shepard all day in a 14-team league where reliably decent production is harder to come by. On the other hand, I'd prefer the upside of the unknown (Jefferson/Reagor/Pittman) in a shallower format.
I wouldn't typically select a second TE in a draft where I already had Kittle and only got three bench players, but I'm assuming we'd be granted at least two more spots if this league were actually being played out. In that case, Hockenson is LIT at 136 overall, about 20 spots later than I typically draft him in best ball leagues.
Washington, on the other hand, was one of those picks where I was like "Sure, this guy seems fine. There's nobody else I really want here." That said, I still don't understand why most drafters like Diontae Johnson so much more than Washington. The gap between them in this draft was only 39 picks, but it's not far from triple digits in terms of best-ball ADP.
The Bucs played good defense over the final two months of last season, finishing ninth in fantasy points (8.6) despite being attached to a quarterback who tossed 30 interceptions. Tom Brady won't be handing away nearly as many short fields, and the only projected change in the starting lineup is second-round pick Antoine Winfield replacing either Jordan Whitehead or Andrew Adams, both of whom finished in the bottom 25 of PFF's safety grades for 2019. The Bucs also have 2019 third-round pick Mike Edwards and 2017 second-round pick Justin Evans (Achilles) at safety, so there is some real hope for the position to be significantly upgraded.
Last but not least we have Mr. Koo, who I recently wrote about while discussing bounce-back players for 2020. Long story short, Koo plays for a dome team with a good offense, and his strong work on onside kicks should give him the advantage if the Falcons decide to bring in some kicker competition. I don't necessarily object to people drafting Justin Tucker, Harrison Butker or Wil Lutz in the third/fourth-to-last round, but I think I can get similar results from a lesser-known guy like Koo, quickly pivoting to a streaming approach if it doesn't work out.
Final thoughts
I'm really happy with this team. My WRs probably wouldn't provide many touchdowns or long gains, but I think Diggs, Woods and Edelman will each reach 80 catches — a mark that's also realistic for Kamara and Kittle. The squad is tailored to the PPR format, to say the least. I'd feel much less confident in this team under a standard scoring system.
The Auction
$200 Budget. 12 Teams x 22 Rounds = 264 total picks
Scoring: PPR, 20/10 yardage, 4/6 TDs, best-ball. No distance bonus for FGs (all 3 pts.). No points awarded to D/STs for points/yards allowed.
Lineups: 1 QB, 2 RB, 3 WR, 1 TE, 1 K, 1 D/ST - (13 bench)
My squad: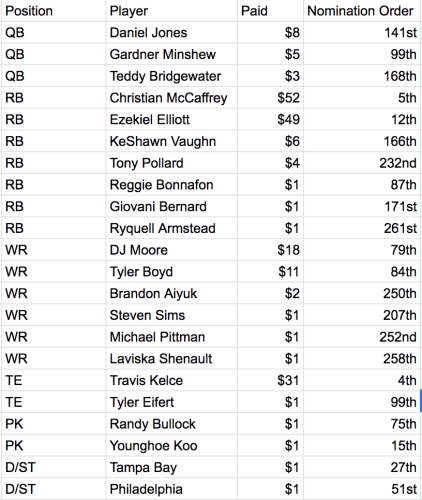 I didn't enter the auction specifically planning stars and scrubs, but that's what ended up happening within the first 15 minutes. The $31 for Kelce seemed exactly fair, which means I probably should've passed him up to put that money toward players that would be undervalued later on (opportunity cost!). I've noticed in the past that the first few players nominated tend to end up being some of the better values, so I wanted to make sure I scored a premium guy early on. Looking back, I should've been more flexible in my thinking, especially given how much I like some of the potential-breakout TEs this year — Hockenson, Hayden Hurst, Mike Gesicki, etc.
What happened next I have no regrets about — grabbing the king of kings for 26 percent of my budget. Dalvin Cook had just gone for $45, and a few picks later we'd see Michael Thomas at $41 and Saquon Barkley at $50. I understand people are hesitant to spend too much on one player when they need to fill 22 roster spots, but I nonetheless believe McCaffrey is worth ~$60. As much as we all love Barkley, anyone ranking him above C-Mac is either A) a Giants fan and a huge homer, or B) trying too hard to be cute. The gap between them is worth more than $2.
I capped things off with Elliott, who seems to have been a product of my subconscious commitment to the top-heavy build. I feel like I paid full market price and really pigeon-holed myself into one strategy. Then again, it was the Kelce bid I ended up regretting by the end of the auction, feeling like two stud RBs made more sense than a premium TE for the S&S strategy.
Travis Kelce is beyond reproach as a tight end, but that doesn't mean he's a good fit for every auction build.
Nom. 15 - K Younghoe Koo - $1
Nom. 27 - D/ST Tampa Bay Buccaneers - $1
Nom. 51 - D/ST Philadelphia Eagles - $1
Nom. 75 - K Randy Bullock - $1
Some people find this annoying, but I don't care because I know it's good strategy. The trick is finding guys that are valuable enough to warrant a roster spot, yet not quite valuable enough to elicit a $2 bid. I knew I couldn't get Justin Tucker or the Steelers defense for $1, and I knew I didn't want Eddy Pineiro or the Panthers defense occupying a spot on my team. So, I found the sweet spot in the middle.
I was surprised to see a bunch of defenses and kickers go for $3 or more, especially in a format that takes away distance bonuses for the former and points-allowed scoring for the latter. I made plenty of mistakes in this auction, but I can at least say I outfoxed my opponents on the kicker/defense strategy (always a point of pride for a weirdo like me).
I needed wide receivers and thought both guys were slightly underpriced. After winning this duo, I knew I'd be restricted to the bargain bin for the rest of the night, with $35 remaining and 13 roster spots to fill.
I felt like I needed to lock down some $1 players on my nomination turns before I jumped back into bidding for QBs and WRs. Bonnafon was McCaffrey's seldom-used backup last season, and Eifert is my favorite TE that I didn't think would draw a $2 bid.
After being outbid on a couple of my $1 targets, I pivoted to Minshew, a personal favorite at a major position of need. I don't think either of my QB picks was really a steal at those prices, but I will note that veterans like Matt Ryan, Tom Brady and Matthew Stafford were going for $12-13. My chosen strategy pointed to acquiring three cheap QBs rather than two good ones, and I don't mind the inconsistency of Minshew/Jones in a best-ball format, especially given that both guys like to scramble.
I'm not really into Vaughn, and RB was the least of my needs, but for some reason it just felt like $6 was too cheap. With the benefit of hindsight, I'd have been better off spending that money on a wide receiver. On the other hand, I was thrilled with the Bridgewater pick, having spent a total of $16 to acquire three starting QBs.
This is where I may have failed at toeing the line between 'not worth a roster spot' and 'nobody will snipe them with a $2 bid'. If we were playing this league out with roster moves, I'd definitely cut Bernard in favor of a free agent WR. The Sims pick I feel a little better about — he was productive in December, and coach Ron Rivera says he wants to use Antonio Gibson primarily in the backfield.
Part of my strategy was to handcuff both Zeke and McCaffrey while otherwise going light on RB depth, but I don't think it was necessary once i acquired Vaughn. The $4 price tag for Pollard is fine in a vacuum; it's not so great on a team that had Steven Sims as its No. 3 receiver at the time. The money would've been better spent elsewhere.
Boom! I felt much better about my earlier mistakes once I was able to land some talented rookie receivers in the auction end game. THIS is where you can get a nice ROI on these guys, not in the eighth round of a snake draft. Granted, my WR group as a whole still stinks.
A team with Zeke and CMac definitely needs a seventh WR more than it needs a seventh RB. Oh well. I'll just pretend we're playing the league out with transactions, because $1 Armstead offers a much higher ceiling than any pass catcher I'd have been nominating instead. The Jaguars haven't traded Leonard Fournette, but that doesn't mean it won't happen before Week 1.
Final Thoughts
I prefer targeting high-end RB1s over superstar WRs in best-ball leagues, as it's easier to get by with quantity over quality at the latter position. Unfortunately, you still need some degree of quality, and in this case I know I could've done better. Looking back, I should've passed on either Kelce or Elliott. In fact, I kind of wish I'd taken McCaffrey and Barkley instead of CMac-Zeke-Kelce.